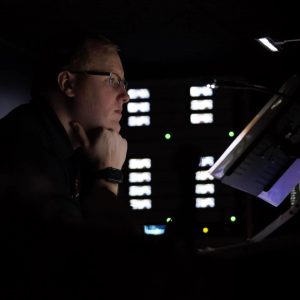 Patrick MacDonald is a Sound Designer, Engineer, and Technician who has worked on over 100 shows in his career, as part of both professional and educational companies. Patrick has served as the Resident Sound Designer/Engineer at Red Mountain Theatre (Birmingham, AL) since March 2017 and the Sound Engineer for Bluff Park United Methodist Church since February 2021.
Prior to his current position, Patrick's experience included Assistant Technical Director at Grand Canyon University (Phoenix, AZ), Sound Designer & Supervisor (2016), Sound Associate (2014), and Sound Intern (2013) at the Adirondack Theatre Festival (Glens Falls, NY) and Sound Technician/A2 at Porthouse Theatre (Cuyahoga Falls, OH).
Patrick graduated with a Bachelor of Arts in Theatre with a Minor in Performing Arts Administration from Western Kentucky University (Bowling Green, KY) in December 2016. While attending WKU, Patrick was extensively involved behind the scenes in the Department of Theatre & Dance, serving as the Sound Designer, Sound Engineer, Composer, Sound Staff, Electrics Staff, Master Electrician, House Manager, Technical Director, and countless other positions for a variety of shows. In addition, Patrick served as the House Manager for WKU's Cultural Enhancement Series, where he coordinated and ran events for Bill Nye, Garrison Keillor, the Martha Graham Dance Company, Wynton Marsalis and the Lincoln Center Jazz Orchestra, Ladysmith Black Mambazo and many others. Patrick also served as the TV Audio Engineer at First Baptist Church and a Technical Assistant with the WKU Campus and Community Events Office. In addition, he has served as the AV Specialist for the WKU Office of Conferencing and Catering.
To learn more about Patrick's work, please visit the résumé and portfolio pages. If you have any questions, please visit the contact page.